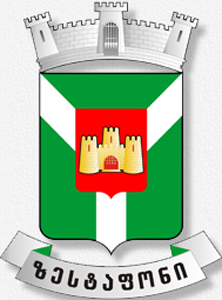 Coat of arms of Zestafoni
Zestafoni is situated in the furthest east of the Kolkheti Plateau. The city is built on the both banks of the river Kvirila. Zestafoni, administrative center of Zestafoni region, is also the center of an ancient, historical part of Georgia Margveti and its Eparchy.
Name of the city is connected with the bank of river Kvirila (in Georgian "phoni"), upper bank (in Georgian "Zeda phoni"), that was used by the local population and foreign travelers from ancient times.
The first time Zestafoni is mentioned in sources is in the 60s of the 16th century. In the 20s of the 19th century there was a Cossack army post here and Zestafoni was called "Kvirila". In the 20s of the 20th century, the city was called Jugeli, by a famous revolutionist, and only after that did the city regain its historical name.

Flag of Zestafoni Municipality
Quick development of Zestafoni is connected with the exploitation of the Ferro-Alloy Plant. The plant has made the city one of the industrial centers of Georgia. Currently the population of Zestafoni comes to 30.000.
Zestafoni is also one of the winery-vinery centers of Georgia. Wine prepared from "Tsitsqa" and "Tsolikauri" species are widely known.
There are lots of historical monuments in the Zestafoni region: Zeda Saqara (11th c.), Tabakini (6th c.), Tseva (11th c.), Sanakhshire and other churches, castles from early Middle Ages in Shrosha and Shorapani. Shorapani (Sarapanis) is the toponymy, that is mentioned in old Greek mythology. That was Sarapanis that Jason and his Argonaut friends approached during their travel in old Colchis (Kolkhida).